Alhamdulillah , An awesome opportunity for seekers of knowledge to collect pearls from
The Best of All Stories = Surah Yusuf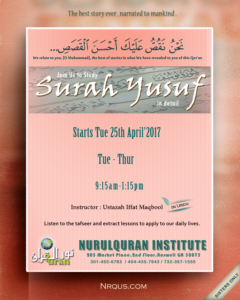 Join Us to Learn
Why Allah swt called it The Best of All Stories
Discover how lessons from this Surah can be used in our lives and reflect on the wisdoms contained in Allah's final revelation.
Importance of Aqeedah e Tawheed
How to inculcate within yourself a love for the Qur'an
Different types of dreams
The fiqh of a lost child
The types dua, knowledge, and patience 'Sabrun Jameel'
The status of parents
Fate and Destiny in Islam
Muslim conduct during rainfall and drought
The evils of jealousy
Types of Nafs
The Evil Eye
And much more…… InShaaAllah .
Starts : Tue 25 the April 2017
⏱Time : 9:15am-1:15pm
Venue : Nurul Quran Campus at 205 Market Place ,Roswell GA 30075
Join us with your near and dears @ Listeners are always Welcome .
Babysitting will be available.
"Are you ready
For this amazing experience
We ask Allah, the Most High, to bless us with beneficial knowledge and actions that are acceptable to Him, indeed He is the Most Generous, the Most Gracious.Aameen .